I am a firm believer that one can never have too many cornbread recipes. Even if you make the same one over and over again. The same goes for chili.
I'm going to let you in on a chili-making secret.
But first, a quick etymology lesson:
"Chile" means pepper in Spanish, so it is redundant to call them chile (or chili) peppers.
Whether you spell it chile, as we do, or chili or even chilli, is a matter of regional preference.
Chilli is commonly used in British English, while here in the Americas you'll often see it spelled with just one l and either an e or an i. Both are correct. The i spelling is considered standard American English, while the e spelling is most common in the Southwest and regions with large Spanish-speaking populations.
[RELATED | MORE RECIPES: Texas-style and Cincinatti chili showcase regional flair]
I prefer to use the e spelling for peppers and the i spelling for the stew and its seasoning mix. This is to avoid confusion (a teaspoon of pure ground ancho pepper is not interchangeable with a teaspoon of chili seasoning, which is a blend of spices, including pepper and often salt) and to honor/respect the origin of most recipes that use the peppers. Arkansas isn't part of the Southwest, but our cuisine has been deeply influenced by it: Cheese dip and tamales come immediately to mind.
But back to that secret:
Texas doesn't own chili. Nor does any other state.
There's no right or wrong way to make chili. Put whatever you like in your chili — beans, tomatoes, zucchini — and use
whichever cut of meat works for you — chunks of chuck, ground round, turkey — or skip the meat altogether; as long as it has a stewlike consistency and you include a hefty bit of chile powder or fresh peppers, it's chili.
Chili is all-American, with as many different iterations as there are Americans. A bowl of chili can be drastically different depending on where you are and who's doing the cooking.
Texas chili (con carne) aka "bowl of red" is made with beef and dried chiles, rarely tomatoes and never beans. (Recipe available at arkansasonline.com/1020chiliextras)
Cincinnati chili is made with ground meat and tomatoes and seasoned with chili powder, cinnamon and cloves. It is most often served over spaghetti with cheese, onions and/or beans. (Recipe available at arkansasonline.com/1020chiliextras)
I've read about but never eaten Springfield chilli (note the double l). From what I've read, it is often made with ground beef, a significant amount suet, typical chili spices, beans and sometimes tomato. The double l is thought to bring to mind and reflect its state of origin: Illinois.
I have friends who make chili with bear meat. Venison, bison and lamb are other common alternatives to the typical ground beef or ground turkey options.
My go-to chili recipe is simple: ground beef (or turkey), chili seasoning, fire-roasted tomatoes, pinto, kidney and/or chili beans and some tomato juice. I brown the beef, drain it if necessary, add the chili seasoning, stirring it to coat the beef and cooking for 30 seconds to a minute; and then I add the tomatoes, beans and tomato juice and simmer for at least 20 minutes. Sometimes I add a fresh chile to the meat while it cooks.
The recipe, though basic, is quite versatile. If I happen to have some homemade chili seasoning on hand, I'll use it, but most often I reach for a packet of Williams Chili Seasoning. You can replace the meat with a couple more cans of beans; up the nutrition by stirring in a can of pumpkin puree or any other cooked vegetable you desire, such as eggplant and summer squash. And it can be doubled or tripled as needed. You can make it with less liquid for serving over cornbread waffles or fried slices of polenta, or add a bit more tomato juice if you prefer floating oyster crackers, dunking chunks of cornbread or buttered soft sandwich bread in your chili.
Good chili starts with the peppers and other spices. These are, after all, what give chili its distinctive flavor. The best chili starts with chili seasoning you make yourself.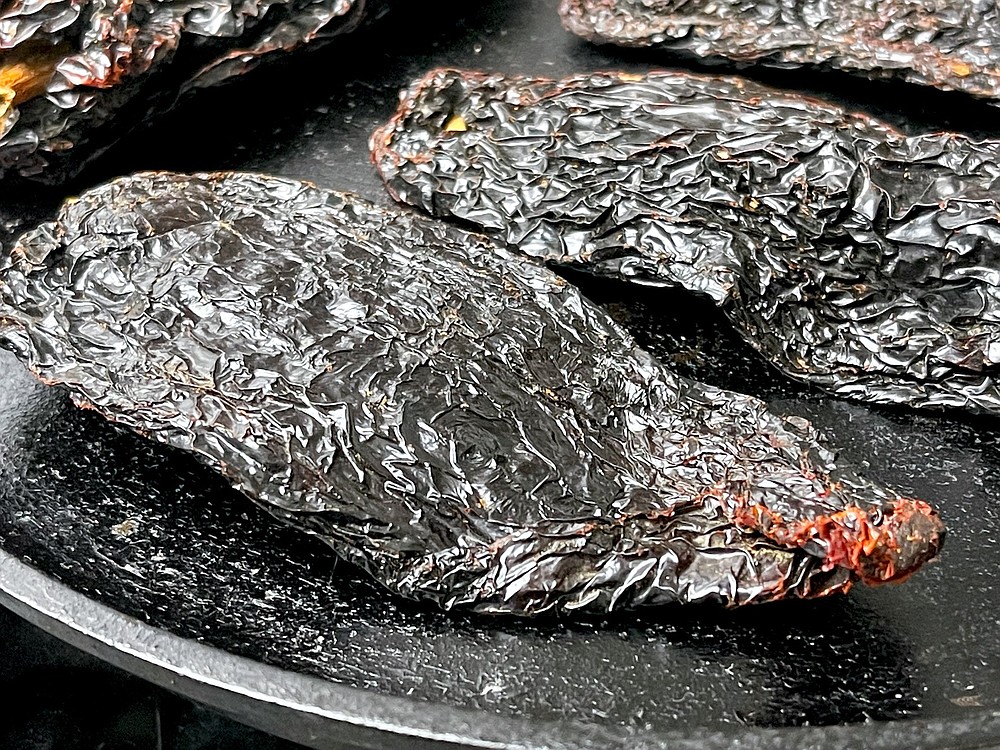 Toasting dried chiles on a comal brings out their flavor (Arkansas Democrat-Gazette/Kelly Brant)
Source : https://www.arkansasonline.com/news/2021/oct/20/pepper-and-spice/
826